The cost of coding classes for kids is certainly a factor many parents consider as they look to get their children learning one of the most critical skills of the 21st century. While just half of all high schools offer computer science, 90% of parents want their child to study computer science.
As Richard Branson, Founder, Virgin Group, said, "Whether we're fighting climate change or going to space, everything is moved forward by computers, and we don't have enough people who can code. Teaching young people to code early on can help build skills and confidence and energize the classroom with learning-by-doing opportunities." So today we'll explore how much kids coding classes cost, as well as reveal some ways to save and get the best value.
Start learning beginner-friendly coding right away with live expert guidance in a class designed for kids by professionals from Google, Stanford and MIT:
How Much Do Kids Coding Classes Cost?
Most kids coding classes cost about $15-$35 per hour. Though the cost of kids coding classes can vary widely depending on a number of factors, such as the age of the child, the level of instruction, the teacher's qualifications, the quality of the curriculum, the size of the group, additional resources or materials that may be included, and the length of the class. Furthermore, there are free coding classes that are a great place for many coders to begin.
Quality of kids coding classes is incredibly important to consider. Certainly you can remember a time when a lackluster teacher or curriculum totally dis-interested you from an entire area of study. Or the reverse, when an exceptional teacher, helped you find an interest you never would have imagined. It's critical to ensure your student has a positive experience, engaging instruction, access to real-world applications, and a trustworthy curriculum, from the start!
What Is the Range of Prices for Kids Coding Classes?
In general, online kids coding classes can range from a few hundred dollars for a short course or workshop to several thousand dollars for a more intensive program or bootcamp. There are also introduction kids coding courses with a live expert instructor from as low as free to $50 across a number of different platforms.
As just one example, here's a quick rundown on coding classes costs with the award-winning platform Create & Learn, where all online classes follow a curriculum designed by Silicon Valley professionals:
Learn more about how to pick the perfect class for your student on Create & Learn's pricing page.
Meanwhile, the average in-person bootcamp, costs more than $13,000!
What is the Average Price for Kids Coding Lessons?
Some coding schools or camps may charge a flat fee for a set number of lessons, while others may charge an hourly rate or even a monthly or yearly subscription. On average, you can expect to pay anywhere from $7 to $50 per hour for kids coding lessons. It is worth shopping around and comparing prices from different sources to find the best value for your money. It is also worth considering the reputation and experience of the instructor, as well as the curriculum and teaching materials that will be used.
Factors That Affect the Cost of Kids Coding Classes
There are several factors that can affect the cost of kids coding classes, including:
The type of coding language being taught: Some coding languages, such as Scratch, are more commonly taught than others and may be less expensive to learn.
The experience and qualifications of the instructor: Classes taught by instructors with more experience and advanced degrees may be more expensive than those taught by less experienced instructors.
The strength of the curriculum and material: Classes designed by Silicon Valley vets and professionals with real computer science industry experience, as well as those with instructional design backgrounds, may be more expensive.
The duration and frequency of the class: Classes that meet for longer periods of time or on a more frequent basis may be more expensive than shorter or less frequent classes.
The size of the class: Smaller classes may be more expensive than larger ones because they offer more individualized attention. Personalized attention may be the difference between your child being successful and not, so this is especially important to consider.
The location of the class: Classes held in major cities or in high-cost-of-living areas may be more expensive than those held in other locations.
The materials and resources provided: Classes that include access to specialized equipment or software may be more expensive than those that do not.
Are Kids Coding Classes Worth the Cost?
Whether kids coding classes are worth the cost will depend on a number of things, including your child's age, interests, and goals, as well as your budget and availability. Coding classes can be a great way for kids to learn valuable skills and have fun at the same time. They can also help to develop problem solving, logic, and creativity, which can be beneficial for children of all ages.
Here are just a few ways kids will be able to concretely apply their skills: creating websites or web-based applications; developing mobile apps; making games; programming robots and drones; analyzing data; and automating tasks. Beyond that, there are several reasons why coding is a skill that kids need: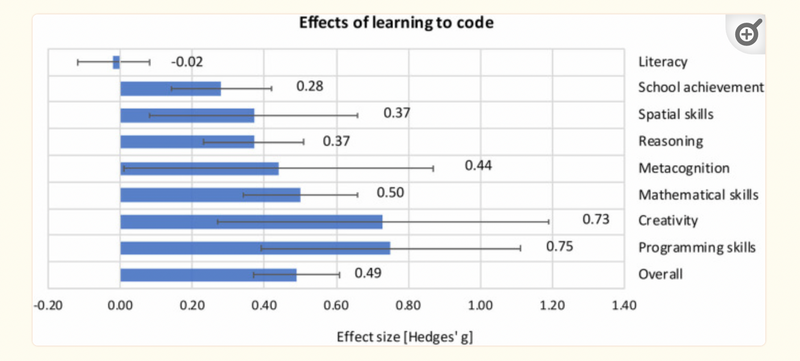 Coding promotes problem-solving and critical thinking skills: Coding requires kids to break down complex problems into smaller, more manageable pieces and then think through how to solve each piece. This helps to develop problem solving and critical thinking skills that are applicable to many other areas of life. As published in the opinion paper "Some Evidence on the Cognitive Benefits of Learning to Code," learning to code involves thinking processes similar to those in other domains, such as mathematical modeling and creative problem solving.
Coding is a highly marketable skill: As technology continues to advance, the demand for people with coding skills is only going to increase. Having coding skills can make a person more competitive in the job market and open up a wide range of career opportunities. Not just for engineering jobs either. When you can code you can make tech changes all on your own, back up presentations with data, and much more.
Coding can be creative and fun: Coding allows kids to express and grow their creativity, and build things that are uniquely their own. It can also be a safe, fun, and engaging activity that kids enjoy.
Coding is a valuable skill for the future: As technology becomes increasingly integrated into every aspect of life, it is likely that coding will become an essential skill for many jobs in the future. Learning to code now can give kids a head start and prepare them for the future. About 9,600 openings for computer programmers are projected each year, on average, over the decade from 2021 to 2031.
Keep exploring reasons why kids should learn to code here.
How to Find Affordable Kids Coding Classes and Ways to Save
There are many simple ways to save on kids coding classes. Here are a few of our favorites:
Refer friends: Some coding education programs offer you class credit if you refer friends, cousins, and schoolmates. With Create & Learn's referral program you can earn $5 in class credit after a friend completes an introductory class and $15 in credit when a friend enrolls a paid class (your friend gets $20 in credit too!).
Class packs: Certain programs provide you with the opportunity to buy a bundle of classes at one time with a large discount. Create & Learn offers up to 35% a large bundle of classes during certain times of the year, and even empowers families to split the included classes among their siblings.
Seasonal promotions: Many coding programs offer seasonal discounts around the summer and winter when students are out of school. Be sure to sign up for emails from companies you are interested in, in order to see the discounts before they're over.
How to Choose the Best Value Coding Classes
There are a few key factors to consider when choosing the best value coding classes for a child:
Age appropriateness: Children at different age ranges have different developmental needs and capabilities, and a class that is too advanced or too easy will not be as effective as one that is tailored to the child's age group.
Goals: Think about what you want your child to get out of the coding class. Do you want them to learn a particular programming language, or make a specific project? Do you just want to expose them to computer science concepts? Or is building their creativity most important?
Class size: Consider the size of the class. Some classes may be small and more personalized, while others may be larger groups with less time for answering individual's questions. Choose a teaching setting that you think will work best for your child's learning style.
Reputation: Look for a class that has a good reputation. You can ask other parents or read online reviews to get a sense of the quality of the class. You can also see the types of schools or programs that have partnered with the coding platform to assess quality.
Cost: Finally, consider the cost of the class. There are often many options available at different price points, so you should be able to find something that fits your budget. Many programs offer free trials or free classes, which can be a great way to gauge your child's interest.
The Cost of Coding Classes for Kids
Kids coding classes are an investment in a child and their future. If you're not sure where to begin, we'd love for your student to join our online beginner-friendly Scratch coding class, led live by an expert. Students will begin learning basic coding concepts and create a project they'll be proud of - and seeing their smile will be priceless!