Remote learning tips make all the difference as you bring your school's curriculum online. With the fast spreading of COVID-19 coronavirus, many schools have started planning for possible closure. So today, we'll discuss a few ways to ensure your school is ready to keep the learning going during any closure.
At Create & Learn, we have been teaching live, online classes to students all across the United States, Canada, and outside of North America for years. Our expertise there can be applied to support remote learning for schools as well.
We have started volunteer for Bay Area schools to help them enable remote learning and would be happy to help any schools that have a need. Email us at learn@createandlearn.us. We will get you ready quickly! In the mean time, here are some tips to get you started.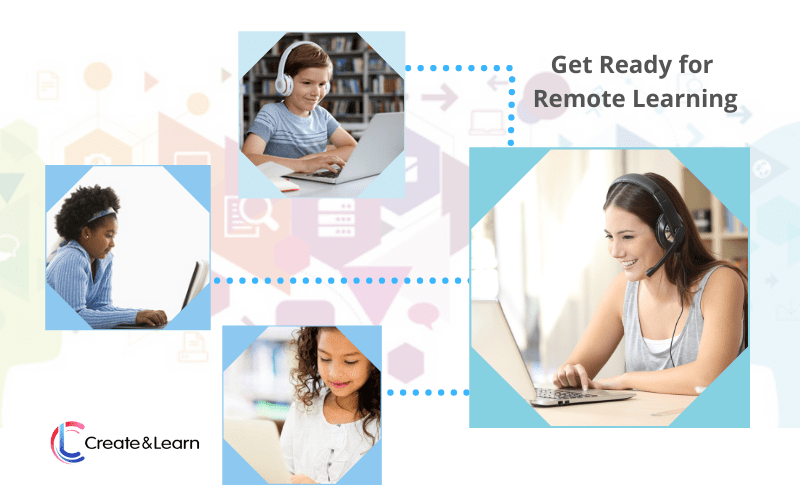 Discover remote learning tips for schools
From selecting a teaching platform to ensuring every child has the tools they need, let's explore a few remote learning tips to prepare for a new way of learning.
1. Choose an online teaching platform
There are a number of video conferencing products that are readily available such as Zoom, Google Meet, and BlueJeans. Many school technologies already have the capacity to use these tools.
We use Zoom for our online teaching. In comparison, it has the best video quality and works well with a wide range of devices and network conditions, which are the most critical parts of a live teaching system. It is also easy to use and has some cool features (such as annotation, raising a hand, and creating breakout rooms for group discussions), that make live teaching easier.
2. Plan and communicate class schedules clearly
Remote schooling will likely require a different schedule compared to regular schools. Many schools already have a LMS (learning management system) to manage class schedules, assignments. and you can just add the online class schedule and dialin information.
If you don't have a consistent LMS, don't panic. Communicating schedules and dialing information is just as easy with a simple spreadsheet. It could look something like this:

3. Train students and teachers ahead of time for remote learning
Systems like Zoom are pretty easy to use. However, there could be some confusion, especially with younger students who are not as familiar with computers.
Set aside half an hour of class time to prepare. Students and teachers can dial into the same video classroom to try out key features and go through common scenarios.
We have prepared some materials based on our extensive experiences in online teaching to help schools go through this training. Please contact us at learn@createandlearn.us. We will get you started. We have also put together class management tips that will make your online classes potentially even more effective than in-person classes.
4. Address equity - consider different family situations
Equity (or lack of it) can become a more serious issue when it comes to live, online learning. Many students may not have access to computers with audio video, high speed Internet, or a quiet environment to learn from home.
Schools will need to evaluate carefully based on their own student population. Using a phone to join an online classroom is a fine option for some subjects. Teachers can also consider recording the live classes, so students who do not have fast enough bandwidth and easy access to computers can review them at their convenience and get help as needed. It is easy to turn on recording in Zoom.
5. Consider the impact - prepare students, teachers, and parents emotionally for remote learning
That's right, it is not just about getting the equipment and materials ready. Unlike school closures due to snow and other weather conditions, this will last longer and is almost invisible.
Schools have likely educated students on common practices that help prevent flu. Find other ways to have students take proactive actions. For example, brainstorm ideas on learning at home or keeping the classroom clean. For higher grade students, they can help others to get ready. Feeling empowered is important.
Get prepared by using these remote learning tips for schools
COVID-19 has presented some unique challenges. But it is also an opportunity to help our children build resilience and practice dealing with life challenges. As educators and parents, we are here to set examples and help them prepare.
We hope these tips will help many schools start planning. Please share with your school/district leaders. And contact us at learn@createandlearn.us. We are here to help your school get ready quickly.
Jessie Jiang
Founder & CEO at Create & Learn
Ph.D in Computer Science
www.create-learn.us